Stars Above by Marissa Meyer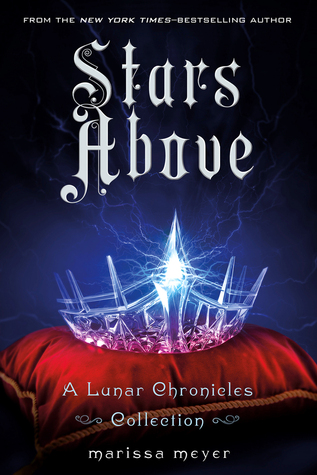 Rating: PG
Genre: Science Fiction
Score: ❤❤❤❤❤
Page Count: 369
Novella Bind Up
Publisher: Feiwel & Friends
Published: February 2, 2016
The enchantment continues....

The universe of the Lunar Chronicles holds stories—and secrets—that are wondrous, vicious, and romantic. How did Cinder first arrive in New Beijing? How did the brooding soldier Wolf transform from young man to killer? When did Princess Winter and the palace guard Jacin realize their destinies?

With nine stories—five of which have never before been published—and an exclusive never-before-seen excerpt from Marissa Meyer's upcoming novel, Heartless, about the Queen of Hearts from Alice in Wonderland, Stars Above is essential for fans of the bestselling and beloved Lunar Chronicles.

--
The Little Android: A retelling of Hans Christian Andersen's "The Little Mermaid," set in the world of The Lunar Chronicles.
Glitches: In this prequel to Cinder, we see the results of the plague play out, and the emotional toll it takes on Cinder. Something that may, or may not, be a glitch….
The Queen's Army: In this prequel to Scarlet, we're introduced to the army Queen Levana is building, and one soldier in particular who will do anything to keep from becoming the monster they want him to be.
Carswell's Guide to Being Lucky: Thirteen-year-old Carswell Thorne has big plans involving a Rampion spaceship and a no-return trip out of Los Angeles.
The Keeper: A prequel to the Lunar Chronicles, showing a young Scarlet and how Princess Selene came into the care of Michelle Benoit.
After Sunshine Passes By: In this prequel to Cress, we see how a nine-year-old Cress ended up alone on a satellite, spying on Earth for Luna.
The Princess and the Guard: In this prequel to Winter, we see a game called The Princess
The Mechanic: In this prequel to Cinder, we see Kai and Cinder's first meeting from Kai's perspective.
Something Old, Something New: In this epilogue to Winter, friends gather for the wedding of the century...
Review:
PROS:
1. Can I just say that after reading this book, I'm now farther away from accepting that the Lunar Chronicles series has come to an end? I mean, I know the graphic novel will be among us soon enough but I just can't wrap my brain around the fact that these books are now completed and done.
Stars Above,
while the last book in the series, was the perfect way to wrap everything up by giving readers new material to read about their favorite characters and the beloved world they travel through. I was so excited to read this book and I'm more than excited to share my review of it!
2. One thing I just loved about this little bind-up of Lunar novellas was simply that you got to experience all the stories in one big book. It's like reading flashbacks of a character. I loved that we get to see the past events of the characters and how they got to where they are when we're first introduced to them in the main series. It's really cool to see just what made the characters who they were and what made them tick, how they ended up in the homes or workplaces they're in when in the main series, and just what kind of problems they had to deal with before the whole Queen Levana tidbit. My personal favorites were that of Thorne and Cinder of course but I loved pretty much all of them.
3. Another thing is that we also get some brand new novellas that have never before been published until this bind-up and I freaking loved them! My favorites were
Something Old, Something New
and
The Mechanic
which isn't surprising if you know just how big of a crush I have on the lovely Prince Kai but I promise I have legit reasons for those being my favorites. Scouts honor. Pinky swear. Cross my heart. The last novella had me in tears since it was the last story, so many feels were coming at me, and it involved how two of my favorite characters ended up at the end. And of course, the wedding to which I won't spoil for you guys but it is a good one!
4. It was so much fun getting back into the world of the Lunar Chronicles and I will forever treasure this series since it has become an obsession of mine as well as a pretty big part of these past two teen years. It allowed me to bond even more with my friends as we discussed our favorite parts, characters and how fun it was to hate Queen Levana and just have an all around awesome book discussion. It also inspired us to really work on our own character and world building when it comes to our own writing and I really hope that you pick up this series if you haven't yet as soon as possible! You won't regret it!
Now to figure out what new series to dedicate all my time to and obsess over . . .
This might take a while.
I hope you guys enjoyed this book review! Read on bookworms! See you in the next chapter!