The Heir by Kiera Cass (The Selection #4)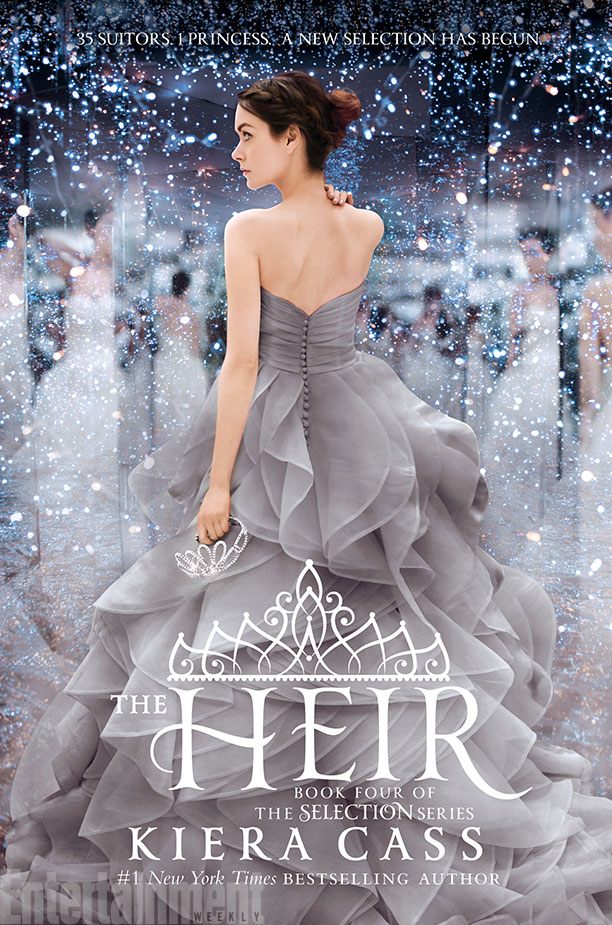 Rating: PG
Genre: Dystopian, Romance
Score: ⭐⭐⭐⭐
Page Count: 342
Book #4 of The Selection series
Publisher: Harper Teen
Published: May 5, 2015
THIS IS A FOURTH BOOK IN A SERIES= SPOILERS!
Twenty years ago, America Singer entered the Selection and won Prince Maxon's heart. Now the time has come for Princess Eadlyn to hold a Selection of her own. Eadlyn doesn't expect her Selection to be anything like her parents' fairy-tale love story. But as the competition begins, she may discover that finding her own happily ever after isn't as impossible as she always thought.
Review:
1. I was so excited when this book was first announced because I was kind of sad knowing that last year, The Selection series would only be a trilogy. When the news came out that this fourth book would be coming out, I was stoked! I had the release date and everything marked on my calendar and Ii was especially interested when it was revealed that the book would follow the King and Queen's daughter. After I finally read the third book in the series, I was even more excited to know who the queen was. Anyway, enough babbling and here's the review!
2. I actually liked Princess Eadlyn's character a bit more than I probably should since, like her mother, she has some attitude issues. I really liked that Eadlyn was very independent, feisty and determined to run her country one day without a husband at her side. She didn't think love was for her and that played a part in her stubbornness of going through with her Selection. She was a bit bratty at times and didn't seem like the nicest person ever and she was also spoiled. At least she had enough reason for that, however, considering she is the one and only princess and the heir to the throne. She's hard to love but like her mother, she's trying. I really loved the other characters as well in the book. Speaking of America Singer, I really loved that she was a mom just trying to make everything easier on her daughter by passing on her own experiences from her Selection. Maxon seemed like the coolest dad ever and I also enjoyed the diversity of the suitors chosen to compete in the Selection. Of course I have my favorites: Kile, Hennri, Hale, even Erik though I don't know if he even counts.
3. I really liked how much fun it was to read this book. The previous three book in this series where reminiscent to the Bachelor whereas this book, wasn't that far off from reminding me of the Bachelorette. Obviously, this book had some boy drama and Princess Eadlyn had to put her foot down a few times and put a few people in their place. There was some drama and some heartache, even some denial of quite possibly being in love, one thing Princess Eadlyn really doesn't want to be one bit. It was an entertaining read and a fun one. This series is known for being a series only read for some good dramatic entertainment but this one was possibly a little calmer than the rest of the series.
4. Overall, I really enjoyed this book and I'm super excited to see what the fifth and final book in this series has to offer! If you haven't yet read this book and are maybe a little hesitant to pick it up, I would say to still give this one a shot. Just make sure you have plenty of caffeine, chocolate and maybe even a happy, stress free movie to pop in when you need a break from Princess Eadlyn's bratty attitude. I flew through this book, couldn't put it down, and I'm excited to see what happens next!
The reason why I didn't give this book a five-star rating was because of how frustrating Princess Eadlyn could be. Again, she was the only daughter, heir to the throne and spoiled because of that but there were a few times I wanted to shake her and tell her to get it together. Hopefully she gets a little less bratty in the next book ;)
Follow Kiera!
I hope you guys enjoyed this book review! If you have any other book requests you would like me to review, just leave a comment or send me an email! Read on bookworms! See you in the next chapter!