I'm fully aware that I did in fact skip telling you guys which books I was excited for in July but it was quite a slow month for new releases that I was excited about, I only ended up finding two that caught my attention. But I'm back with five new releases for the month of August that I just have to check out and put on my bookshelves! Here are my most anticipated August releases!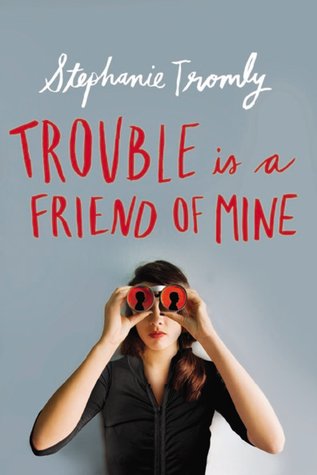 Title:
Trouble Is A Friend Of Mine
Author: Stephanie Tromly
Release Date: August 4
Genre: Mystery, Romance
Publisher: Kathy Dawson Books
Synopsis:
Preparing to survive a typical day of being Digbys friend wasn't that different from preparing to survive the apocalypse.
Her first day not in school (because she cut) in her new hometown that will soon be her old hometown (because she's getting out of Dodge as fast as she can) Zoe meets Digby. Or rather, Digby decides he's going to meet Zoe and get her to help him find missing teenager. Zoe isn't sure how, but Digby—the odd and brilliant and somehow…attractive?—Digby always gets what he wants, including her help on several illegal ventures. Before she knows it, Zoe has vandalized an office complex with fake snow, pretended to buy drugs alongside a handsome football player dressed like the Hulk, had a throw-down with a possible cult, and, oh yeah, saved her new hometown (which might be worth making her permanent hometown after all.)
A mystery where catching the crook isn't the only hook, a romance where the leading man is decidedly unromantic, a story about friendship where they aren't even sure they like each other—
Trouble is a Friend of Mine
is a YA debut you won't soon forget.
Author: Colleen Houck
Release Date: August 11
Genre: Fantasy
Publisher: Delacorte Press
Synopsis:
When seventeen-year-old Lilliana Young enters the Metropolitan Museum of Art one morning during spring break, the last thing she expects to find is a live Egyptian prince with godlike powers, who has been reawakened after a thousand years of mummification.
And she really can't imagine being chosen to aid him in an epic quest that will lead them across the globe to find his brothers and complete a grand ceremony that will save mankind.
But fate has taken hold of Lily, and she, along with her sun prince, Amon, must travel to the Valley of the Kings, raise his brothers, and stop an evil, shape-shifting god named Seth from taking over the world.
From
New York Times
bestselling author Colleen Houck comes an epic adventure about two star-crossed teens who must battle mythical forces and ancient curses on a journey with more twists and turns than the Nile itself.
Author: Kate Elliott
Genre: Fantasy
Release Date: August 18
Publisher: Little, Brown Books for Young Readers
Synopsis:
In this imaginative escape into an enthralling new world, World Fantasy Award finalist Kate Elliott begins a new trilogy with her debut young adult novel, weaving an epic story of a girl struggling to do what she loves in a society suffocated by rules of class and privilege.
Jessamy's life is a balance between acting like an upper class Patron and dreaming of the freedom of the Commoners. But at night she can be whomever she wants when she sneaks out to train for The Fives, an intricate, multi-level athletic competition that offers a chance for glory to the kingdom's best competitors. Then Jes meets Kalliarkos, and an unlikely friendship between a girl of mixed race and a Patron boy causes heads to turn. When a scheming lord tears Jes's family apart, she'll have to test Kal's loyalty and risk the vengeance of a powerful clan to save her mother and sisters from certain death.
Author:
Stefan Bachmann,
Leigh Bardugo,
Kendare Blake,
A. G. Howard,
Jay Kristoff,
Marie Lu,
Jonathan Maberry,
Danielle Paige,
Carrie Ryan,
Megan Shepherd,
Nova Ren Suma,
McCormick Templeman,
April Genevieve Tucholke,
Cat Winters
Genre: Horror
Release Date: August 18
Publisher: Dial Books
Synopsis: For fans of Stephen King, Neil Gaiman, Lois Duncan, and Daphne Du Maurier comes a powerhouse anthology featuring some of the best writers of YA thrillers and horror
A host of the smartest young adult authors come together in this collection of scary stories and psychological thrillers curated by Between the Devil and the Deep Blue Sea's April Genevieve Tucholke.
Each story draws from a classic tale or two—sometimes of the horror genre, sometimes not—to inspire something new and fresh and terrifying. There are no superficial scares here; these are stories that will make you think even as they keep you on the edge of your seat. From bloody horror to supernatural creatures to unsettling, all-too-possible realism, this collection has something for any reader looking for a thrill.
Fans of TV's The Walking Dead, True Blood, and American Horror Story will tear through tales by these talented authors.
Author: Betsy Cornwell
Genre: Science Fiction, Steampunk
Release Date: August 25
Publisher: Clarion Books
Synopsis:
Nicolette's awful stepsisters call her "Mechanica" to demean her, but the nickname fits: she learned to be an inventor at her mother's knee. Her mom is gone now, though, and the Steps have turned her into a servant in her own home.
But on her sixteenth birthday, Nicolette discovers a secret workshop in the cellar and begins to dare to imagine a new life for herself. Could the mysterious books and tools hidden there—and the mechanical menagerie, led by a tiny metal horse named Jules—be the key to escaping her dreary existence? With a technological exposition and royal ball on the horizon, the timing might just be perfect for Nicolette to earn her freedom at last.
Gorgeous prose and themes of social justice and family shine in this richly imagined Cinderella retelling about an indomitable inventor who finds her prince . . . but realizes she doesn't want a fairy tale happy ending after all.