Hollow City by Ransom Riggs (Miss Peregrine's Peculiar Children #2)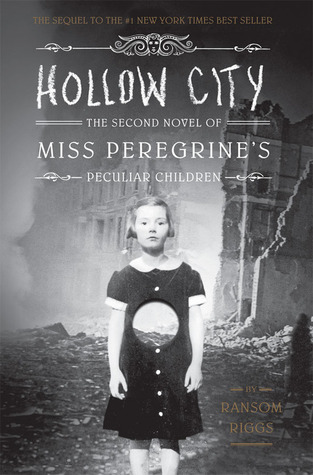 Rating: PG
Genre: Fantasy, Paranormal
Score: ❤❤❤❤❤
Page Count: 399
Book #2 in the Miss Peregrine's Peculiar Children series
Publisher: Quirk Books
Published: January 4, 2014
This sequel to the first novel,
Miss Peregrine's Home for Peculiar Children
, begins in 1940, immediately after the first book ended.
Having escaped Miss Peregrine's island by the skin of their teeth, Jacob and his new friends must journey to London, the peculiar capital of the world. Along the way, they encounter new allies, a menagerie of peculiar animals, and other unexpected surprises.
Complete with dozens of newly discovered vintage photographs.
Review:
PROS:
1. So I might be just a tad bit obsessed with this series. I freaking loved the first book in this series so I was dying to get my hands on the sequel for the longest time afterwards! When I finally did pick up a copy back in November, I was so ready to read it that I set it on my desk where it stayed for an entire week as I rushed to finish a book I was currently reading then. I loved this sequel and I'm so excited to pick up the third and final book to see how things wrap up! Special thanks to my big sister for buying me the third book for my birthday ;)
2. Can I just tell you guys how much I love the characters in this book? Because I love them way too much for my own good. I love how much character development you see in all the characters as the story plays out. This book is also a little funnier than the last because of their development and they start to loosen up just a tad even though there are so many enemies hunting them down. I really love Jacob and all the peculiars, especially Olive, Enoch and Horace. I think Jacob is an interesting character because you get to see how comfortable he starts to get with his special ability and how much stronger he gets as a character. The story really shows off his determination to protect his friends and help Miss Peregrine and any other people he meets along their journey. I love the peculiars so much because of how different they all are from each other, and not just because of their abilities either. I love how quirky, sweet, moody and humorous each of the children are and their disagreements and childish bantering just makes the book all the more fun to read.
3. One of my favorite things about this series is the amazing and creepy pictures strewn throughout these books! I'm a fan of all things creepy and dark, which is why I love horror movies and Edgar Allen Poe so much, and I just love how this series combines two of my favorite things; books and creepy photographs. Enough said. I love how unique the pictures are and I love how they make the story feel so much more real being able to actually see the characters and the locations being described instead of relying on just your imagination to picture all of them (no pun intended).
4. Lastly, I'm just in love with the world of these books and the uniqueness of it all. Never would I have thought that time loops, monsters and children with superhuman powers could create something so enchanting and addictive. I think this series has a little something for everybody. It has creatures straight out of nightmares, peculiar photographs and characters, interesting twists and turns and it continues to surprise as the story goes on. If you haven't read this series, please do! I beg of you!
I honestly couldn't read it fast enough. Like seriously, I was dying until the very last page.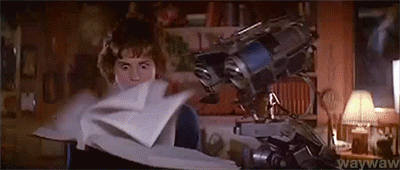 And in case you didn't know, the
Miss Peregrine's Home For Peculiar Children
movie is set to release next Christmas so that gives you plenty of time to check this series out before then. Click
HERE
to read about the movie and I hope you enjoy these books as much as I did.
Follow Ransom!
I hope you guys enjoyed this book review! Read on, bookworms! See you in the next chapter!