Through The Woods by Emily Carroll
Rating: PG-13
Genre: Graphic Novel, Horror, Fantasy
Score: ❤❤❤❤❤
Page Count: 208
Stand Alone
Publisher: Margaret K. McElderry Books
Published: July 15, 2014
'It came from the woods. Most strange things do.'
Five mysterious, spine-tingling stories follow journeys into (and out of?) the eerie abyss.
These chilling tales spring from the macabre imagination of acclaimed and award-winning comic creator Emily Carroll.
Come take a walk in the woods and see what awaits you there...
Review:
PROS:
1. I've been seeing this graphic novel around for the past few months and I have no idea why I waited so long to read it. Now that the Halloween spirit is starting to seep into the fall season itself, I've been craving something scary in book form. I've seen plenty of horror movies to last me a few lifetimes so I wanted to find more creepy reads instead to satisfy my craving for the scare factor. And I'm so happy that I finally did so with this book! Here's the review:
2. Usually I save the art talk for last but this time around. I just need to focus on it first for a second. Going into this book, I honestly thought it was going to be more of 'structured' style of illustrations like most graphic novels are with certain layouts and blocked in text. I was so intrigued by the art I was seeing, however, when I first opened it up and began reading. It actually caught me a little by surprise. I loved how loose and free the illustrations felt and how creepy they were because of just that alone. Add in the cool color pallet that really used bold reds and blues to make certain things pop and you have a book that's just entertaining to stare at. The text was also free flowing and looked almost handwritten onto the pictures in a scratchy font that made things a little creepier.
3. This book has five different short stories, six if you count the very last four or five pages that was counted more as an epilogue, and I loved every single one of them! One thing I really loved was how original each tale was. Some of the short stories were more paranormal whereas some dealt with actual beasts lurking in the shadows of the woods just waiting to strike. The woods were definitely a big part of every story which was nice because it tied all the stories together in a way. All the stories were surprising in their not-so-concluded endings and I loved that. In all the stories, I couldn't believe how they ended and it just left me wanting to know what happened next even though that story was over. I would love to see all of the short stories somehow become their own graphic novel. They were very dark, sinister at times and even a little freaky.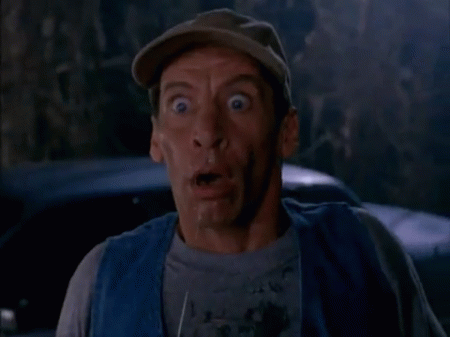 4. This graphic novel is very imaginative and a PERFECT read for October or if you're just looking for something creepy to read at night. This book actually had me a little creeped out and that's coming from a girl who loves scary movies and yet never gets scared in any of them. I think this book has a little something for everybody. Whether you like ghost stories, urban legends or Boogeyman-esque tales, I think you'll love this one for sure!
Follow Emily!
I hope you guys enjoyed this book review! If you have any other book requests you would like me to review, just leave a comment or send me an email. Read on bookworms! See you in the next chapter!