The Crown by Kiera Cass (The Selection #5)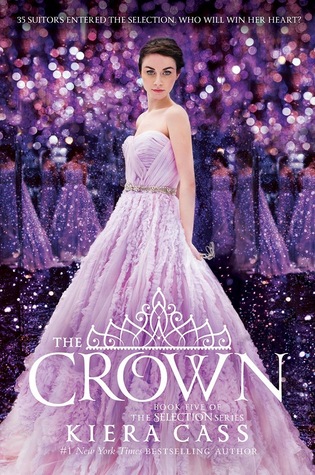 Rating: PG
Genre: Dystopia, Romance
Score: ❤❤❤❤❤
Page Count: 279
Book #5 of The Selection series
Publisher: HarperTeen
Published: May 3, 2016
When Eadlyn became the first princess of Illéa to hold her own Selection, she didn't think she would fall in love with any of her thirty-five suitors. She spent the first few weeks of the competition counting down the days until she could send them all home. But as events at the palace force Eadlyn even further into the spotlight, she realizes that she might not be content remaining alone.
Eadlyn still isn't sure she'll find the fairytale ending her parents did twenty years ago. But sometimes the heart has a way of surprising you…and soon Eadlyn must make a choice that feels more impossible—and more important—than she ever imagined.
Review:
PROS:
1. I was so excited when this book was first released that I was just dying to get my hands on it, which is why I pre-ordered it because I didn't want to have to worry about finding a copy at the store. Before I begin my review, I would suggest not reading this post if you haven't yet read the first book in this series or if you haven't yet read
The Heir
which is the book prior to this one. I want to avoid spoiling anyone! Now with that said, let's get onto the review!
2. The first thing I loved about this book is the fact that from the previous book up until the end of The Crown, you really get to see how much Eadlyn has grown up both as a leader and as a person. I loved that the book portrayed her as a stronger, less bratty character in this book since she comes to some pretty harsh realizations at the end of The Heir which influence her actions in this continuation. Eadlyn really matures as she goes through her Selection and realizes that she can still be a leader without having to stray away from who she really is. I thought it was a very valuable lesson.
3. I absolutely adored following Eadlyn and her suitors throughout this book! The final six were just a hoot to get to know and it was hilarious with the way they all teased each other, lifted each other up and became really good friends with each other including Eadlyn. It was clear to see once the story was wrapped up that some of the suitors will more than likely be life-long friends to the young Highness and with each other which made me really want a sixth book in the series.
4. I honestly don't think there was a single thing I didn't like about this book. Which is a new one for me. I loved the writing style, how quick and fun of a read it was, the characters were so entertaining and everything ended in a way I was hoping for yet not expecting at the same time. I won't spoil you guys for who Eadlyn chooses to marry or if she even does get married, but I was so happy beyond words with how the story came to a close and I still have all the feels from reading the ending.
So that's it! I really hope you guys enjoyed this book review and hope you have a fun time reading this book if you plan to in the future. Read on, bookworms! See you in the next chapter!