Storm Catchers by Tim Bowler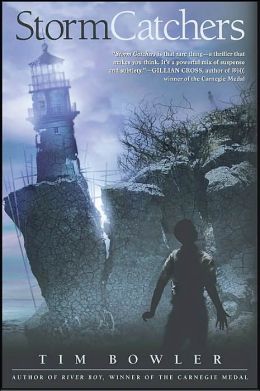 Rating: PG
Score: 4 stars
"Tell a soul and she's dead.
What seems like a harmless trip down the road to a friend's house quickly turns wrong for Fin when his sister Ella is kidnapped during the night. His little brother Sam seems different, going on about 'catching the storm' and wondering all alone at night when everyone's asleep down to the coastal cliff. Fin will never forgive himself if something happens to Ella or Sam and takes it upon himself to bring them both home safe and sound no matter what it takes. As Fin and his family begin the urgent search for the missing girl, secrets and lies threaten to tear the family apart. More and more questions start being asked, and they're running out of time to save Ella. Why was she kidnapped? Who kidnapped her? Who's the mysterious man Fin keeps seeing around town? What is his father hiding from them?
Review:
Pros:
1. One thing I loved about this book was the mystery and suspense behind every page. This book definitely keeps you on the edge of your seat and wanting to read more of every twist and turn.
2. The characters were well built and even the small characters played a major role in the story in the end. The characters were unique in their own way which is depicted perfectly by three-year-old Sam.
3. This book also has a couple of really good plot twists that leave you with your mouth hanging open in realization. From Fin's father to the kidnapper, you will be surprised at the secrets revealed.
Cons:
1. Even though the book is a quick read, 200 pages, it did get a bit slow in the first three or four chapters. I didn't mind it as much since it was a shorter book but just letting you know that it was a bit slow in the beginning.
I hope you enjoyed this book review! If you have any book requests you would like me to review, just send me an email or leave it in the comments! Read on bookworms! See you in the next chapter!