The Orphan Queen by Jodi Meadows
Rating: PG-13
Genre: Fantasy
Score: 3.5 stars
Page Count: 391
Book #1 of The Orphan Queen series
Publisher: Katherine Tegan Books
Published: March 10, 2015
Wilhelmina has a hundred identities.
She is a princess.
When the Indigo Kingdom conquered her homeland, Wilhelmina and other orphaned children of nobility were taken to Skyvale, the Indigo Kingdom's capital. Ten years later, they are the Ospreys, experts at stealth and theft. With them, Wilhelmina means to take back her throne.
She is a spy.
Wil and her best friend, Melanie, infiltrate Skyvale Palace to study their foes. They assume the identities of nobles from a wraith-fallen kingdom, but enemies fill the palace, and Melanie's behavior grows suspicious. With Osprey missions becoming increasingly dangerous and their leader more unstable, Wil can't trust anyone.
She is a threat.
Wraith is the toxic by-product of magic, and for a century using magic has been forbidden. Still the wraith pours across the continent, reshaping the land and animals into fresh horrors. Soon it will reach the Indigo Kingdom. Wilhelmina's magic might be the key to stopping the wraith, but if the vigilante Black Knife discovers Wil's magic, she will vanish like all the others.
Jodi Meadows introduces a vivid new fantasy full of intrigue, romance, dangerous magic, and one girl's battle to reclaim her place in the world.
Review:
PROS:
1. So I'll say this right off the bat: If you love Throne Of Glass by Sarah J. Maas, more than likely you'll love this one too. I was really excited for this lovely when the book was first released and I decided to pick it up just a few days ago and get a little fantasy in my life. I'm not going to lie here, it wasn't a favorite of mine but I still enjoyed it enough to want the second book in this series! Here's the review:
2. So for the characters, I enjoyed them enough. Wil, Black Knife, Melanie, Patrick and all the Ospreys all had pretty interesting pasts. This book doesn't go into detail when it comes to their pasts, which I was a little disappointed by but the characters were all pretty strong and even a little intimidating in their own way. Wil is of course the rightful ruler of her kingdom and is very determined to take back her thrown, no matter the cost. She's an amazing fighter and can definitely take care of herself without anyone's help. She's also very strong both physically and emotionally but has an incredibly soft spot for her people and their livelihood. She's a natural born leader and fighter and that shows throughout the story. Melanie was actually a rather sweet character and wasn't as bold as Wil but more sneaky and quiet. Patrick is a lot harder than all the characters. He believes in his own reasoning for his actions and doesn't regret a thing, no matter who gets hurt in the process. Black Knife is very mysterious and honestly reminded me a little of Batman. Wears all black? Always has a mask? Vigilante? Totally a medieval version of Batman.
3. I really loved the world building and magic system in this book because of it's descriptions and uses. I loved how old and magical the world felt and I thought it was so cool to see what kind of creatures lurked in its shadows and outskirts. I loved how the magic was simple yet powerful and how easily Wil could "animate" anything she wanted and make it do whatever she pleased. The creatures and beasts in this book were really cool because you had half-man-half-monster beings and even giant scorpions. The world was built up in a way that made it a very dark and monstrous place and I really enjoyed that aspect. I wouldn't want to live there but I still think it was pretty cool!
4. The last thing I liked about this book was that even though it had a MAJOR cliffhanger and left me like "akjsfdbajbawufga", I really enjoyed it and I'm excited for the second book which comes out sometime next year. Like I said before, if you like TOG or are just in the mood for some high-fantasy, I suggest taking a look at this one and seeing what you think of it. There's a lot going on in this book so make sure you're in the mood for some action!
The reason why I didn't give this book a five-star rating was because of these three reasons:
CONS:
1. It was a bit of a slower read despite its intense action scenes and twists and turns and I couldn't get invested in the characters or story as much as I would've liked to because of it's slower pace.
2. Because there was so much going on already, the romance in this book just felt forced and a little awkward and didn't give me anything interesting. With all the magic, war, fighting, battle, and secrecy going on, the romance was just a little too much for my taste.
3. The ending also felt very rushed and took a little bit of an awkward turn. I would've loved to have seen the last chapter be spread out into maybe two or three chapters instead of trying to wrap up the story as fast as it did. The book was also a little predictable, considering I knew Black Knife's identity halfway through the book and why Melanie was sneaking out at night without telling Wil where she was going.
Follow Jodi!
I hope you guys enjoyed this book review! If you have any other book requests you would like me to review, just leave a comment or send me an email. Read on bookworms! See you in the next chapter!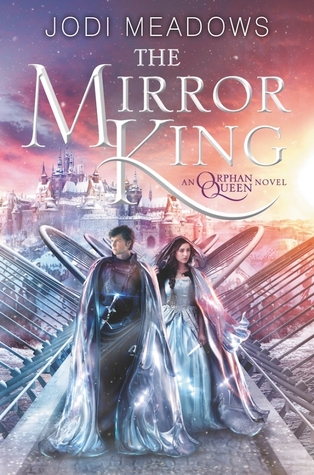 The Mirror King by Jodi Meadows (The Orphan Queen #2)
Available: April 15, 2016