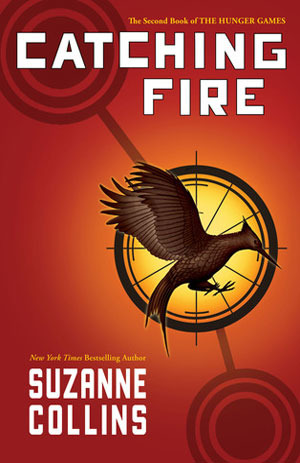 Rating: PG-13
Genre: Dystopian, Fantasy, Romance
Score: ⭐⭐⭐
Page Count: 405
Book #2 in The Hunger Games trilogy
Publisher: Scholastic Press
Published: September 1, 2009
Against all odds, Katniss has won the Hunger Games. She and fellow District 12 tribute Peeta Mellark are miraculously still alive. Katniss should be relieved, happy even. After all, she has returned to her family and her longtime friend, Gale. Yet nothing is the way Katniss wishes it to be. Gale holds her at an icy distance. Peeta has turned his back on her completely. And there are whispers of a rebellion against the Capitol - a rebellion that Katniss and Peeta may have helped create.
Much to her shock, Katniss has fueled an unrest she's afraid she cannot stop. And what scares her even more is that she's not entirely convinced she should try. As time draws near for Katniss and Peeta to visit the districts on the Capitol's cruel Victory Tour, the stakes are higher than ever. If they can't prove, without a shadow of a doubt, that they are lost in their love for each other, the consequences will be horrifying.
Review:
PROS:
1. Yes, I'm very and highly aware that I'm extremely late when it comes to jumping on this bandwagon of a book (four years and three movies to be precise). I still love, however, that many of the people who visit my blog or follow me on Instagram have been following me on this "journey" if you will with reading these books because of a reading goal I made at the beginning of this year. Now that I've thanked all of you beautiful people, here's my very unimportant and late-to-the-party review!
2. The first thing I really liked about this book was that it goes into a little more detail about how the government works and what exactly they're willing to sacrifice in order to keep their laws and ways of living under control and will pretty much show no mercy to anyone in order to do that. Even if it means killing off the most rebellious of the people. In the first book, the whole story was supposed to be focused on the Games but I liked this sequel more because it offers more insight to how the leaders' way of thinking is and also has a bit more world building that I liked a little better as well.
3. I also really liked that this book had more action and suspense than the first book. This one didn't seem to bore me as often and it actually had me a little more excited about what was about to happen next. I wouldn't say it had me on the edge of my seat exactly but it was more entertaining and kept my attention a little longer. I mean, when you have flesh-eating monkeys, blistering fog and a mysterious beast that literally rips you apart, it's hard not to be focused on the story.
CONS:
Sadly, that was about all I really liked about this book.
The reasons why I didn't give this book a five-star rating was because I still didn't really like any of the characters in this book. Katniss still annoyed me and so did some of the other characters except for Peeta and Finnick and even then, I still didn't love them. There just wasn't enough character development for my personal liking and I thought the story also dragged on a little too much.
I had a hard time staying focused and reading this book without wondering when the book was going to be over. I just wasn't invested in the story enough to really care about what was happening and I found myself just kind of dragging myself through each page. I wanted to like this book but it ended up being just an okay read for me.
Follow Suzanne!
I hope you guys enjoyed this book review! If you have any other book requests you want me to review, just leave a comment or send me an email! Read on bookworms! See you in the next chapter!