Robot Dreams by Sara Varon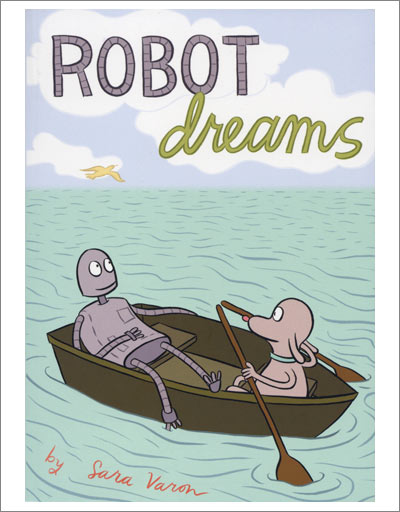 Rating: G
Genre: Graphic Novel, YA Fiction, Children
Score: ⭐⭐⭐⭐
Page Count: 208
Stand Alone
Publisher: First Second
Published: August 7, 2007
Richly endearing and full of surprises, Robot Dreams follows an ill-fated friendship between a dog and robot. After a Labor Day jaunt to the beach leaves Robot rusty and immobilized in the sand, Dog, unsure what to do, abandons him. As the seasons pass, Dog tries to replace his friend, making and losing a series of new ones, from a melting snowman to epicurean anteaters. Meanwhile, Robot passes his time daydreaming, escaping to better places...Through interwoven journeys, the two characters long to recover from their day at the beach.
Although its adorable characters and playful charm will win over young readers, Robot Dreams speaks universally to the fragile nature of friendship, loss, and redemption.
Review:
1. Recently I've been in a huge graphic novel binge (if you couldn't already tell) and once again, I stumbled upon this one while looking for more to read. I thought the cover looked really cute so I took a chance on it. Here's my review:
2. The first thing I noticed about this graphic novel was the fact that this book had no dialog at all. The story was told strictly through the illustrations which I thought was actually pretty cool and very different than other graphic novels that I've read. I really loved that it was completely focused on the characters and pictures to tell the story and it was actually a really great read because of that. After reading it, it's hard to imagine it having dialog because it's really great without it.
3. Speaking of the illustrations, I really loved it needless to say. I thought the art was honestly adorable and very simple. I loved the pastel and muted colors used in this book because it honestly added to the whole story. I also really liked that the hues became even more muted when the characters (specifically the robot) was having thoughts or daydreaming and made it easy to determine what was actually part of the story and what was just imaginary. It was a lot of fun to look at the art too!
4. Overall, I really enjoyed this one. It wasn't my favorite graphic novel but it was still really cute and even emotional to a certain point. I think I might've teared up a bit. I recommend this one for all ages, however, and not just young adults. I think this is a really great read for a child of any age who might want to get into graphic novels and or if you know or have a child yourself and want a quick book to pick up. I read this one in a little over fifteen minutes so this one is perfect!
It's also an awesome book to pick up if maybe you're just a tad bit behind on that super important, life or death reading challenge of yours and need something to catch you up!
I didn't give this book a five-star rating because I would've loved it to be just a little longer and actually made me tear up and I don't know how I feel about a "children's" book giving me the feels. So many feels.
Follow Sara!
I hope you guys enjoyed this book review! If you have any other book requests you would like me to review, just leave a comment or send me an email! Read on bookworms! See you in the next chapter!