Rating: PG-13
Genre: Contemporary
Score: 4.5 stars
Page Count: 464
Stand Alone
Publisher: St. Martin's Griffin
Published: May 12, 2015
(First published September 10, 2013)
In Rainbow Rowell's Fangirl, Cath is a Simon Snow fan. Okay, the whole world is a Simon Snow fan, but for Cath, being a fan is her life-and she's really good at it. She and her twin sister, Wren, ensconced themselves in the Simon Snow series when they were just kids; it's what got them through their mother leaving.
Reading. Rereading. Hanging out in Simon Snow forums, writing Simon Snow fan fiction, dressing up like the characters for every movie premiere.
Cath's sister has mostly grown away from fandom, but Cath can't let go. She doesn't want to.
Now that they're going to college, Wren has told Cath she doesn't want to be roommates. Cath is on her own, completely outside of her comfort zone. She's got a surly roommate with a charming, always-around boyfriend, a fiction-writing professor who thinks fan fiction is the end of the civilized world, a handsome classmate who only wants to talk about words . . . And she can't stop worrying about her dad, who's loving and fragile and has never really been alone.
For Cath, the question is: Can she do this? Can she make it without Wren holding her hand? Is she ready to start living her own life? And does she even want to move on if it means leaving Simon Snow behind?
Review:
PROS:
1. I've been wanting to read this book for forever now and there have been countless times when I've picked this book up at the bookstore but somehow ended up not buying it. Obviously, I have a slight problem when it comes to me being distracted by other pretty covers. Talk about having the attention span of a moth. Finally, I decided to buy the darn thing whilst shopping in one of my favorite stores (Target) because (1) it was on sale and (2) it was the collector's edition so I knew I couldn't walk out of the store without it in my hands. Here's the review:
2. Characters. Oh my flipping gosh did I love all of the characters in this book! I really loved Cath and her sister because of how different they were from each other. Cath is obviously the typical fangirl who loves her coffee from Starbucks and has a ton of Simon Snow memorabilia in her room and also writes fanfiction. Pretty cool, right? Her sister Wren has grown out of her fangirl ways and is more of a party-girl who doesn't really care to just hang out in the comfort of her own room. If there's a party, Wren is sure to show up. I really loved that their differences were very obvious and it made them that much more interesting. I also obviously LOVED Levi and even really liked Reagan because of her 'demanding' ways. Levi was so sweet and funny from the very beginning and I just loved the chemistry between him and Cath. It was too sweet to handle!
3. I wasn't really sure where the story was going to go and how it was going to play out amongst 400+ pages but I ended up really loving how everything played out! I loved that even though this book focuses mainly on Cath's new life in college and follows her as she makes friends and falls in love, it also followed her as she had to deal with her dad and her fading relationship with her sister and even dealt with her mother at one point. I liked seeing the issues that Cath had to deal with and get through because it made not only her but also the other characters so real and relatable.
4. The romance was obviously a very big part of this whole story and I really loved how well developed it was. There was the chemistry at first, then the kissing but I loved that the love-story was still further developed and didn't just stop with a kiss and a confirmation of their relationship. Because of the romance, it only allowed for the characters to get to know more about each other which in turn revealed their issues and problems they were having and you got to know the characters even more. Usually I get annoyed when there's too much drama and overly romantic scenes in a book but for this one, it was the most perfect blend and very well balanced.
5. Overall, I highly enjoyed this book! I loved that it made me laugh so many times while reading it and made me crave late night coffee like never before! It's definitely the perfect summer read and it's also a great pick-me-up if you need something happy because you just recently read a book that totally ruined your life and made you cry because it didn't end the way it was supposed to end . . . Anyhoo, I recommend this one hands down!
The reason why I didn't give this book a five-star rating was because it did get slow at times and started out a little slow but picked up as the story progressed. I still really love this book though!
Follow Rainbow!
I hope you guys enjoyed this book review! If you have any other book requests you would like me to review, just leave a comment or send me an email! Read on bookworms! See you in the next chapter!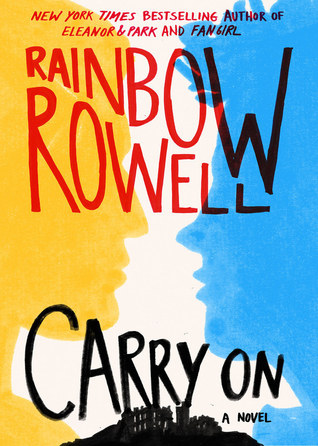 Carry On by Rainbow Rowell
Available October 6, 2015
Rainbow Rowell continues to break boundaries with Carry On, an epic fantasy following the triumphs and heartaches of Simon and Baz from her beloved bestseller Fangirl.

Simon Snow just wants to relax and savor his last year at the Watford School of Magicks, but no one will let him. His girlfriend broke up with him, his best friend is a pest, and his mentor keeps trying to hide him away in the mountains where maybe he'll be safe. Simon can't even enjoy the fact that his roommate and longtime nemesis is missing, because he can't stop worrying about the evil git. Plus there are ghosts. And vampires. And actual evil things trying to shut Simon down. When you're the most powerful magician the world has ever known, you never get to relax and savor anything.

Carry On is a ghost story, a love story, a mystery and a melodrama. It has just as much kissing and talking as you'd expect from a Rainbow Rowell story — but far, far more monsters.