Vanishing Girls by Lauren Oliver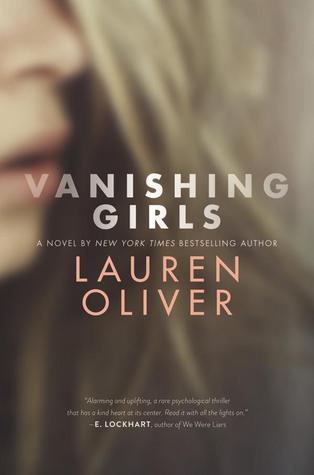 Rating: PG-13
Genre: Mystery, Psychological Thriller, Contemporary
Score: 4.5 stars
Page Count: 377
Standalone Novel
Publisher: HarperCollins
Published: March 10, 2015
Dara and Nick used to be inseparable, but that was before the accident that left Dara's beautiful face scarred and the two sisters totally estranged. When Dara vanishes on her birthday, Nick thinks Dara is just playing around. But another girl, nine-year-old Madeline Snow, has vanished, too, and Nick becomes increasingly convinced that the two disappearances are linked. Now Nick has to find her sister, before it's too late.
In this edgy and compelling novel, Lauren Oliver creates a world of intrigue, loss, and suspicion as two sisters search to find themselves, and each other.
Review:
PROS:
1. This book pretty much had me from the beginning when I first heard about this book back in January. I love psychological thrillers especially in book form and even though I don't read many of them, I was excited to get my hands on this one since not only is it a psychological thriller, but it's also in the category of YA which is something you don't see very often. I read this book in just two sittings so I loved it needless to say! If you loved
We Were Liars by E. Lockhart
, this is perfect for you. Here's the review!
2. The characters in this book really stood out to me, specifically our main characters, Dara and Nick. The story follows the two sisters as they recall what happened before the night of the accident that caused the two to become estranged, but also followed them through the summer, a few months after the accident. It was really interesting to see just how different the sisters were from each other, how Dara and Nick were complete polar opposites from each other. Dara is more of the wild-child and loves being in the spotlight and constantly craves the attention from people around her. Nick, however, couldn't be happier waiting in the sidelines and almost never does anything to count as being wild other than staying up past bedtime. The diversity between the two sisters was great to read since you got to know both characters in different ways.
3. The writing in this book was very interesting and very cool when it came to the layout. The story is written in two POV's, one Dara and the other Nick, but it also had another story going on while theirs played out, which was the story of Madeline Snow and her disappearance. I loved reading this book because not only do we read from Dara and Nick's POV, but we also get journal entries from Dara in the book, e-mails, internet chats and even a webpage taken from the website made to keep people updated on any new developments on Madeline Snow in the book. It felt very real as the book also had a picture of the young girl and even had pictures of Dara and Nick as well as pictures from FanLand where Nick works. It was a really cool book to pick up and I don't regret doing so.
4. The last thing I really loved about this book was the epic plot twist towards the end of the book. After reading it, I had to stop reading for a minute to quickly go over the entire book as everything fell into place again when I thought it was already in place to begin with. It was really mind blowing and had me in shock. Of course, if you read a lot of psychological thrillers, you might be able to guess what the plot twist will be when reading the book. I didn't catch on because the story and characters were built up so well for me that nothing seemed all that suspicious until a few pages from the plot twist. For me, it was probably one of the best that I've read ever so far and hands down the best this year. If you love psychological thrillers and mysteries, I definitely recommend this one!
5. This book also deals a lot with broken relationships and how everything can sometimes get complicated in just a single moment. I loved that the book had a deeper meaning and appreciated how the book was about two sisters who are completely different from each other, don't always get along and even might be jealous of the other but are still friends and are there for each other no matter what comes in between them. I loved how the book was also about forgiveness and what exactly you're willing to do and how far you're willing to go to protect someone you truly love and care about. Having a sister myself, I related a lot to this story and recommend this book to anyone who has a sister or knows someone with a sister.
Follow Lauren!
I hope you guys enjoyed this book review! If you have any other book requests you would like me to review, just leave a comment or send me an email! Read on bookworms! See you in the next chapter!