The Winner's Curse by Marie Rutkoski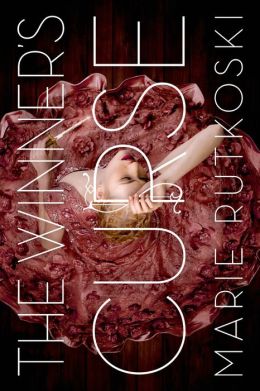 Rating: PG
Genre: Fantasy, Romance, Science Fiction, Dystopian, Historical Fiction
Score: ⭐⭐⭐⭐
Page Count: 355
Book #1 of The Winner's Trilogy
Publisher: Farrar Straus Giroux
Published: March 4, 2014
As a general's daughter in a vast empire that revels in war and enslaves those it conquers, seventeen-year-old Kestrel has two choices: she can join the military or get married. But Kestrel has other intentions.
One day, she is startled to find a kindred spirit in a young slave up for auction. Arin's eyes seem to defy everything and everyone. Following her instinct, Kestrel buys him—with unexpected consequences. It's not long before she has to hide her growing love for Arin.
But he, too, has a secret, and Kestrel quickly learns that the price she paid for a fellow human is much higher than she ever could have imagined.
Set in a richly imagined new world, The Winner's Curse by Marie Rutkoski is a story of deadly games where everything is at stake, and the gamble is whether you will keep your head or lose your heart.
Review:
PROS:
1. I've heard nothing but really great things about this book and I was really excited to pick it up because of what I was hearing. It's been getting a lot of hype lately since it's sequel just recently came out and I thought it was the perfect time to jump on the bandwagon. Here's the review!
2. I'm changing things around a bit and starting off with the world of this book. I don't read a ton of historical fiction but I was very pleased with this book. I was really interested in the world that the story takes place, the architecture and even the old-world feel and traditions strewn throughout the book. I love anything with a medieval or 1800's era feel and this book was no exception. I could just imagine the stone walks and villages and shops and buildings. It was a very entertaining read because of that.
3. Now the characters. Even though this group wasn't exactly a favorite of mine, I still really enjoyed them. I thought our main character, Kestrel, was a great female protagonist. I thought she was strong and even though she knew her place in society was a greatly respected one, she didn't abuse her position and would much rather decide things for herself even though she struggled to please her father and live up to his expectations. The side characters such as Arin, Jess and Ronan, were really great to get to know and I also thought the book had an even amount of good guys and bad guys. In my opinion, they weren't all that memorable but I'm still excited to see how much they grow in the next book.
4. I liked this book because it was about sacrifice and having the determination to fight for what you want and what you believe in. It had it's romantic elements as well as it's intense and honorable moments where Kestrel has to decide what she wants to fight for and what the right choice to make is. It's also about trust and learning to let people in and finding what truly makes you happy. I really liked this book and I can't wait to pick up the sequel.
CONS:
The reason why I didn't give this book a five-star rating was because I would've loved to see more fantasy and action in the book. Some of the high points in the book were still a bit slow and for me, the book lacked enough fantasy for it to be out of that genre altogether. I still enjoyed the read but it didn't meet my personal expectations.
Follow Marie!
I hope you guys enjoyed this book review! If you have any other book requests you would like me to review, just leave a comment or send me an email! Read on bookworms! See you in the next chapter!
The Winner's Crime by Marie Rutkoski (The Winner's Trilogy #2)
Available Now