So I get asked all the time if I know about any other book-to-movie adaptations that will be released in the upcoming months to give my friends and family a heads up on what to read before the film is released. I'm pretty good at keeping up with this stuff so here is a list of book-to-movie adaptations you should keep an eye out for!
Me, Earl, and the Dying Girl by Jesse Andrews.
Distributed by: Fox Searchlight Pictures
Release Date: June 12, 2015
Synopsis:
Greg Gaines is the last master of high school espionage, able to disappear at will into any social environment. He has only one friend, Earl, and together they spend their time making movies, their own incomprehensible versions of Coppola and Herzog cult classics.
Until Greg's mother forces him to rekindle his childhood friendship with Rachel.

Rachel has been diagnosed with leukemia—-cue extreme adolescent awkwardness—-but a parental mandate has been issued and must be obeyed. When Rachel stops treatment, Greg and Earl decide the thing to do is to make a film for her, which turns into the Worst Film Ever Made and becomes a turning point in each of their lives.

And all at once Greg must abandon invisibility and stand in the spotlight.
Paper Towns by John Green.
Director:
Jake Schreier
Starring:
Nat Wolff
,
Cara Delevingne
, Justice Smith,
Austin Abrams
,
Halston Sage
, Jaz Sinclair,
Cara Buono
Distributed by: Temple Hill Entertainment
Release Date: June 19, 2015
Trailer: Paper Towns
Synopsis:
Quentin Jacobsen has spent a lifetime loving the magnificently adventurous Margo Roth Spiegelman from afar. So when she cracks open a window and climbs into his life—dressed like a ninja and summoning him for an ingenious campaign of revenge—he follows. After their all-nighter ends, and a new day breaks, Q arrives at school to discover that Margo, always an enigma, has now become a mystery. But Q soon learns that there are clues—and they're for him. Urged down a disconnected path, the closer he gets, the less Q sees the girl he thought he knew...
The Scorch Trials by James Dashner.
Director:
Wes Ball
Starring:
Dylan O'Brien
,
Kaya Scodelario
,
Thomas Brodie-Sangster
,
Ki Hong Lee
,
Patricia Clarkson
,
Rosa Salazar
,
Giancarlo Esposito
,
Aidan Gillen
,
Nathalie Emmanuel
,
Katherine McNamara
,
Jacob Lofland
,
Barry Pepper
,
Lili Taylor
Distributed by: 20th Century Fox
Release Date: September 18, 2015
Synopsis:
Solving the Maze was supposed to be the end.

Thomas was sure that escape from the Maze would mean freedom for him and the Gladers. But WICKED isn't done yet. Phase Two has just begun. The Scorch.

There are no rules. There is no help. You either make it or you die.

The Gladers have two weeks to cross through the Scorch—the most burned-out section of the world. And WICKED has made sure to adjust the variables and stack the odds against them.

Friendships will be tested. Loyalties will be broken. All bets are off.

There are others now. Their survival depends on the Gladers' destruction—and they're determined to survive.
Mockingjay by Suzanne Collins.
Director:
Francis Lawrence
Starring: Jennifer Lawrence, Josh Hutcherson and Liam Hemsworth
Distributed by: Lionsgate
Release date: November 20, 2015
Synopsis: Katniss Everdeen, girl on fire, has survived, even though her home has been destroyed. Gale has escaped. Katniss's family is safe. Peeta has been captured by the Capitol. District 13 really does exist. There are rebels. There are new leaders. A revolution is unfolding.

It is by design that Katniss was rescued from the arena in the cruel and haunting Quarter Quell, and it is by design that she has long been part of the revolution without knowing it. District 13 has come out of the shadows and is plotting to overthrow the Capitol. Everyone, it seems, has had a hand in the carefully laid plans--except Katniss.

The success of the rebellion hinges on Katniss's willingness to be a pawn, to accept responsibility for countless lives, and to change the course of the future of Panem. To do this, she must put aside her feelings of anger and distrust. She must become the rebels' Mockingjay--no matter what the personal cost.
Fallen by Lauren Kate.
Director: Scott Hicks
Starring: Addison Timlin, Jeremy Irvine, Harrison Gilbertson, Joely Richardson
Distributed by: Walt Disney Pictures
Release Date: Fall 2015
Synopsis:
What if the person you were meant to be with could never be yours?

17-year-old Lucinda falls in love with a gorgeous, intelligent boy, Daniel, at her new school, the grim, foreboding Sword & Cross . . . only to find out that Daniel is a fallen angel, and that they have spent lifetimes finding and losing one another as good & evil forces plot to keep them apart.

Get ready to fall . . .
Allegiant by Veronica Roth.
Director:
Robert Schwentke
Starring: Shailene Woodley, Theo James, Jai Courtney, Ansel Elgort, Ray Stevenson, Zoë Kravitz, Miles Teller, Maggie Q, Mekhi Phifer, Octavia Spencer, Naomi Watts, Daniel Dae Kim
Distributed by: Lionsgate, Summit Entertainment
Release Date: March 18, 2016 (Allegiant Part 2: March 24, 2017)
Synopsis: The faction-based society that Tris Prior once believed in is shattered--fractured by violence and power struggles and scarred by loss and betrayal. So when offered a chance to explore the world past the limits she's known, Tris is ready. Perhaps beyond the fence, she and Tobias will find a simple new life together, free from complicated lies, tangled loyalties, and painful memories.

But Tris's new reality is even more alarming than the one she left behind. Old discoveries are quickly rendered meaningless. Explosive new truths change the hearts of those she loves. And once again, Tris must battle to comprehend the complexities of human nature--and of herself--while facing impossible choices about courage, allegiance, sacrifice, and love
Miss Peregrine's Home for Peculiar Children by Ransom Riggs.
Director:
Tim Burton
(LIKE WHAT?!?)
Starring:
Asa Butterfield
,
Eva Green
,
Samuel L. Jackson
,
Ella Purnell
,
Allison Janney
Distributed by: 20th Century Fox
Release Date: March 4, 2016
Synopsis:
A mysterious island. An abandoned orphanage. A strange collection of curious photographs.

A horrific family tragedy sets sixteen-year-old Jacob journeying to a remote island off the coast of Wales, where he discovers the crumbling ruins of Miss Peregrine's Home for Peculiar Children. As Jacob explores its abandoned bedrooms and hallways, it becomes clear that the children were more than just peculiar. They may have been dangerous. They may have been quarantined on a deserted island for good reason. And somehow—impossible though it seems—they may still be alive.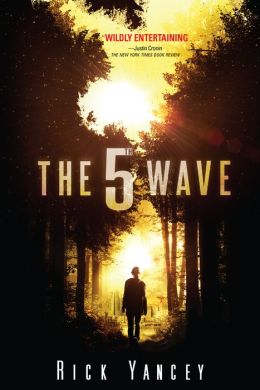 The 5th Wave by Rick Yancy.
Director:
J Blakeson
Starring: Chloë Grace Moretz, Nick Robinson, Alex Roe, Maika Monroe, Liev Schreiber
Distributed by: Columbia Pictures
Release Date: January 29, 2016
Synopsis:
After the 1st wave, only darkness remains. After the 2nd, only the lucky escape. And after the 3rd, only the unlucky survive. After the 4th wave, only one rule applies: trust no one.

Now, it's the dawn of the 5th wave, and on a lonely stretch of highway, Cassie runs from Them. The beings who only look human, who roam the countryside killing anyone they see. Who have scattered Earth's last survivors. To stay alone is to stay alive, Cassie believes, until she meets Evan Walker.

Beguiling and mysterious, Evan Walker may be Cassie's only hope for rescuing her brother—or even saving herself. But Cassie must choose: between trust and despair, between defiance and surrender, between life and death. To give up or to get up
Let me know which YA book-to-movie adaptation you're most excited to see in the comments below! If I've missed any other YA book-to-movie adaptation, please let me know! Also, let me know if you want to see a list of potential book-to-movie adaptations that are currently in the works!