SEQUEL SYNOPSIS:
Once upon a time, a girl had a father, a prince, a society of friends. Then they betrayed her, and she destroyed them all.
Adelina Amouteru's heart has suffered at the hands of both family and friends, turning her down the bitter path of revenge. Now known and feared as the White Wolf, she flees Kenettra with her sister to find other Young Elites in the hopes of building her own army of allies. Her goal: to strike down the Inquisition Axis, the white-cloaked soldiers who nearly killed her.
But Adelina is no heroine. Her powers, fed only by fear and hate, have started to grow beyond her control. She does not trust her newfound Elite friends. Teren Santoro, leader of the Inquisition, wants her dead. And her former friends, Raffaele and the Dagger Society, want to stop her thirst for vengeance. Adelina struggles to cling to the good within her. But how can someone be good when her very existence depends on darkness?
Bestselling author Marie Lu delivers another heart-pounding adventure in this exhilarating sequel to
The Young Elites
.
__________________________________________
So for those of you who have maybe already read this book and it's previous one, you'll know about all that goes down in the first book and what plays out in this second book in the series. So as not to spoil anyone, I'll just say a lot of enemies and not-so-good friends are made in this book and Adelina is finding it even harder to control her powers when the only thing that fuels her is the darkness. In the first book, she struggles to control it then and continues to face many problems as her story continues in The Rose Society. As her character grows, we see Adelina become darker, more sinister and justify her questionable actions for the greater good of her people. I think Adelina is a character you both feel sorry and route for. Which is why I chose a song that pretty much was written for Adelina in my mind.
The song talks about not knowing who to trust, as well as hoping that when the time comes that you're in the most need, someone will be there for you even if they haven't been there for you in the past. No one wants to be let down and I think Adelina is one character that needs someone to lean on in her toughest moments.
DON'T LET ME DOWN by The Chainsmokers ft. Daya
__________________________________________
I am tired of being used, hurt, and cast aside.
Adelina Amouteru is a survivor of the blood fever.
A decade ago, the deadly illness swept through her nation. Most of the infected perished, while many of the children who survived were left with strange markings. Adelina's black hair turned silver, her lashes went pale, and now she has only a jagged scar where her left eye once was. Her cruel father believes she is a malfetto, an abomination, ruining their family's good name and standing in the way of their fortune. But some of the fever's survivors are rumored to possess more than just scars—they are believed to have mysterious and powerful gifts, and though their identities remain secret, they have come to be called the Young Elites.
Teren Santoro works for the king.
As Leader of the Inquisition Axis, it is his job to seek out the Young Elites, to destroy them before they destroy the nation. He believes the Young Elites to be dangerous and vengeful, but it's Teren who may possess the darkest secret of all.
Enzo Valenciano is a member of the Dagger Society.
This secret sect of Young Elites seeks out others like them before the Inquisition Axis can. But when the Daggers find Adelina, they discover someone with powers like they've never seen.
Adelina wants to believe Enzo is on her side, and that Teren is the true enemy. But the lives of these three will collide in unexpected ways, as each fights a very different and personal battle. But of one thing they are all certain: Adelina has abilities that shouldn't belong in this world. A vengeful blackness in her heart. And a desire to destroy all who dare to cross her.
It is my turn to use. My turn to hurt.
__________________________________________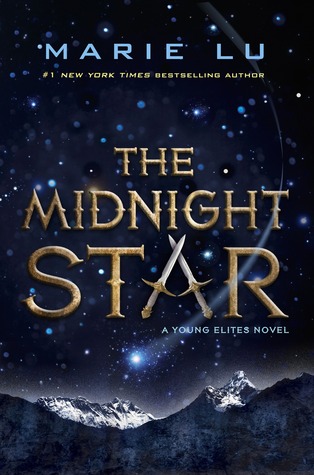 The Midnight Star by Marie Lu (The Young Elites #3)
Available: October 11, 2016