The BFG by Roald Dahl
Rating: G
Genre: Children's, Fantasy
Score: 4.5 stars
Page Count: 194
Stand Alone
Publisher: Puffin
Published: June 16, 2016 (first published 1982)
THE BFG by Roald Dahl, now a major new movie directed by Steven Spielberg.
The well-loved story of a big friendly giant who spirits a child out of bed to the land of the child-eating giants.

Every night, when the world is sleeping, big gruesome giants guzzle up whoppsy-whiffling human beans. And there's only one giant who can stop them - the BFG. He's the kindest giant there is and, with his friend Sophie in his top pocket, he sets out to rid the world of the Bloodbottler, the Fleshlumpeater and all their rotsome friends forever . . .

Listen to THE BFG and other Roald Dahl audiobooks read by some very famous voices, including Kate Winslet, David Walliams and Steven Fry - plus there are added squelchy soundeffects from Pinewood Studios!

Look out for new Roald Dahl apps in the App store and Google Play- including the disgusting TWIT OR MISS! inspired by the revolting Twits.
Review:
PROS: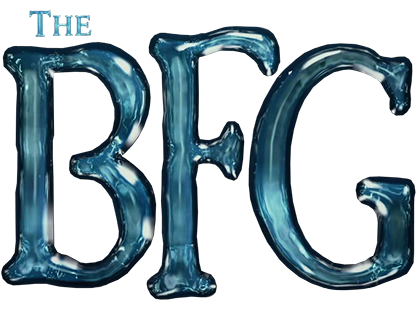 1. When I first read this book when I was a wee seven-year-old I fell in love with the story. The idea of a big friendly giant who blew dreams out of a trumpet into children's bedrooms was one I found absolutely entertaining and for a while, I wondered if that was how dreams actually came about. So, when the movie was officially announced I knew I just had to reread the story for old time's sake. Here's the review!
2. The characters in this book are nothing but loveable and classic. Sophie is the typical little girl who is full of curiosity and adventure and is seriously the cutest thing ever. The BFG is also very loveable with his enormous ears and funny way of talking who loves children and finds a friend in little Sophie. Together, they learn about each other's world and the different ways of living while also figuring out a way to get around all the other giants and learning that there's always a little bit of magic waiting to be discovered.
3. I've always loved the illustrations in a Roald Dahl book so this one was no different. I think the reason why I love the illustrations so much is simply because they're adorable. They don't hold a lot of detail and are very simple in the way they're drawn with only a few lines here and there to give an outline of what they should look like. It reminds me of something a child might draw which brings innocence into his books that I find very refreshing.
4. I think The BFG is a timeless classic for children's books and is full of adventure and wonder and had me laughing at the situations and conversations that Sophie and the BFG got into. I think any child would enjoy this book and the pictures strewed throughout so if you haven't yet read this book or are looking for a new children's book to read, definitely pick this one up for yourself or your kid if you have one or know one.
I hope you guys enjoyed this book review! Do you plan on seeing the movie in theaters on July 1? What is your favorite children's book? Let me know in the comments! Read on, bookworms! See you in the next chapter!
___________________________________________________________