The Only Pirate at The Party by Lindsey Stirling and Brooke S. Passey
Rating: PG
Genre: Nonfiction, Biography, Music
Score:
Page Count: 272
Stand Alone
Publisher: Gallery Books
Published: January 12, 2016
Electronic and dancing violinist Lindsey Stirling shares her unconventional journey in an inspiring memoir filled with the energy, persistence, and humor that have helped her successfully pursue a passion outside the box.
A classically trained musician gone rogue, Lindsey Stirling is the epitome of independent, millennial-defined success: after being voted off the set of America's Got Talent, she went on to amass more than ten million social media fans, record two full-length albums, release multiple hits with billions of YouTube views, and tour sold-out venues across the world.
Lindsey is not afraid to be herself. In fact, it's her confidence and individuality that have propelled her into the spotlight. But the road hasn't been easy. After being rejected by talent scouts, music reps, and eventually national television, Lindsey forged her own path, step by step. Here, for the first time, she shares every triumph and trial she has faced until now. Beginning in a humble yet charmed childhood, this book follows Lindsey through a humorous adolescence, to her life as a struggling musician, through her personal struggles with anorexia, and finally all the way to her success as a world-class entertainer. Lindsey's magnetizing story is at once remarkable and universal—a testimony that there is no singular recipe for success. And a witness that, despite what people may say, sometimes it's okay to be
The Only Pirate at the Party
.
Review:
PROS:
1. I've been a fan of Lindsey Stirling's since 2013 and have since fallen madly in love with not only her music but her amazing personality and ability to just be herself in the music industry. Since discovering her music, the first video I ever watched being 'Crystalized' when it was a small count of over 100,000,000 views, I have been able to switch many friends onto her music and it has been something we're able to bond over which is something amazing that music is able to do. Over the years, I've stayed up to date on her new music and videos and hope to one day see her live so I'm keeping my fingers crossed! When I found out about Lindsey's book, I was pretty dead set on reading it and now I've finally gotten around to picking it up, I'm so excited to review it for you guys!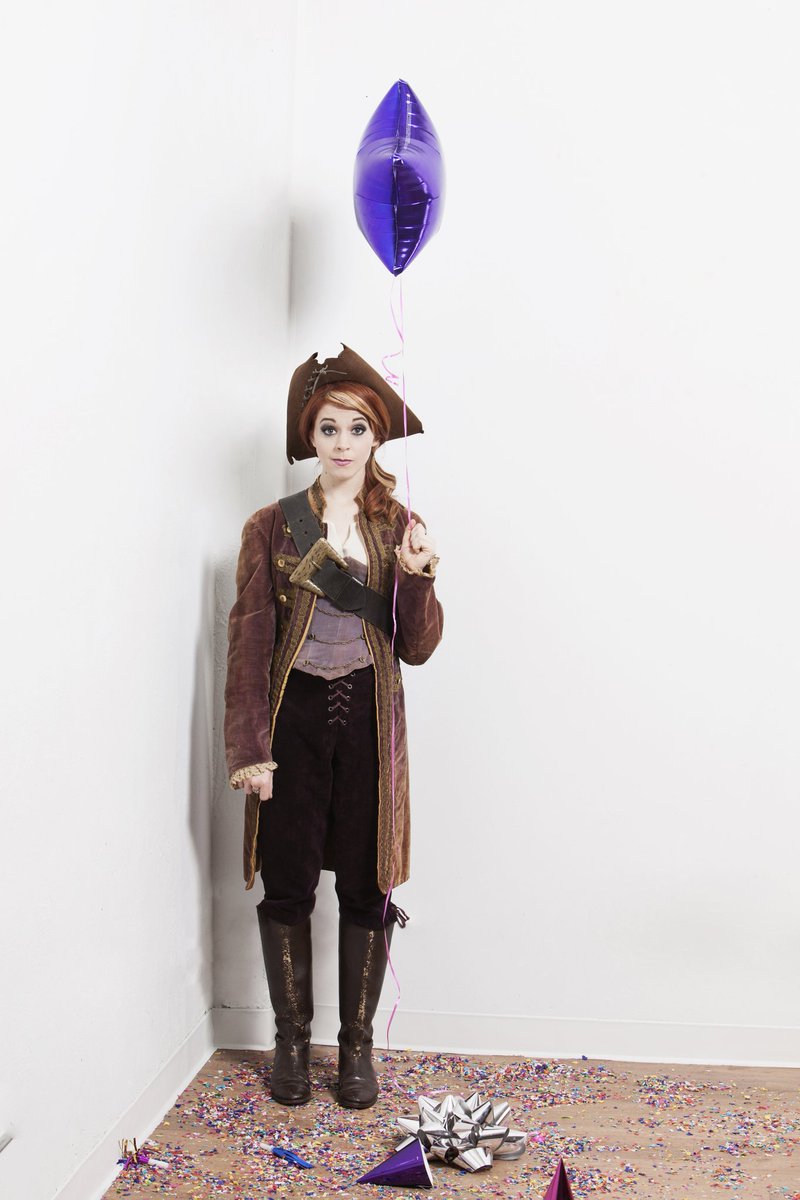 2. The book obviously follows Lindsey from the time she's a child up until today as her career is in full swing and bigger than ever. It was such a nice inside look into the kind of person Lindsey was as a child and how she changed over the years for both the best and sometimes the worst. In the book, she doesn't hold back from pointing out her own flaws and mistakes that she uses as a reminder to never let little things get to her and not to live for people's approval. She talks about self-image and how it can play a role in building your confidence as well as how she let opinions of others affect how she lived her life, what she loved, who she was and ultimately how these things led to her low self-esteem and eating disorder and depression. I appreciated the honesty of this book and I think it's definitely a book that offers valuable advice on the long process that is building confidence.
3. Lindsey also talks about the struggles she had to face with making her music and all that went into not only learning how to play the violin but also working on original music, getting her name out there, focusing on her personal accomplishments as well as discovering where she really belonged in music. She talks about the kind of people that she met along the way, discusses the importance of staying focused on whatever it is your passionate about and how falling in love, making friends, having bad days and just going through the motions is all a part of this crazy thing called life. She provides a unique insight when it comes to the process of learning to accept who you are and knowing you might not be the best of something but as long as you're enough for yourself and the people who support you through and through, that's all you need to be the best.
4. Throughout the book, the common theme was simply hard work and having a passion for the thing you love you most. Whether you want to be a dancer, an actor, a musician or any kind of artist or any other kind of dream job you wish to achieve, Lindsey shines a light on the fact that it will come easy enough for some but won't come as easily for others. Her main point was to not give up as long as you know in your heart that what you want to do for a living and whatever dream you want to chase after is something you feel you need to go after. I think this book is one I'd recommend to anyone looking for some advice on going after your dreams, regardless if you're a fan of Lindsey Stirling or not.
5. Overall, I will totally be reading this book again in the future whether it's from the first page to the last or simply opening it up to a certain passage for some advice. This book is in hindsight a success story but Lindsey Stirling also makes a point on what success really is in her personal opinion: if you're enjoying what you're doing, happy with where you are and determined to continue to improve and become better at your craft and you realize your own talents for what they are, that's success ten times over. There's nothing wrong with being a little different and sometimes, as Lindsey put it, it can be cool to be the only pirate at the party.
I hope you guys enjoyed this book review! What's something you're passionate about and a dream you hope to achieve? Let me know because I would LOVE to see what your dreams are! Read on, bookworms! See you in the next chapter!